Outdoor heating is an increasingly popular way to take advantage of outdoor spaces. It allows for increased use of outdoor living spaces throughout seasons, extending your usable space without physically extending the home. Choosing the most suitable and effective outdoor heater for your home is important, so be thorough in your research and don't be afraid to ask for help and talk to experts if you are unsure.
Before you make any decisions, you need to ask yourself some questions…
Do you want electric or gas?
What size is the space you want to heat up?
Is your outdoor area under cover or open?
Do you want a portable heater that you can move around, or would you prefer it to be fixed?
How many people on average will the outdoor heater need to keep warm?
Do you want to keep warm or simply create an atmosphere?
There are many options available on the market, so make sure you know the specific requirements and limitations of your space.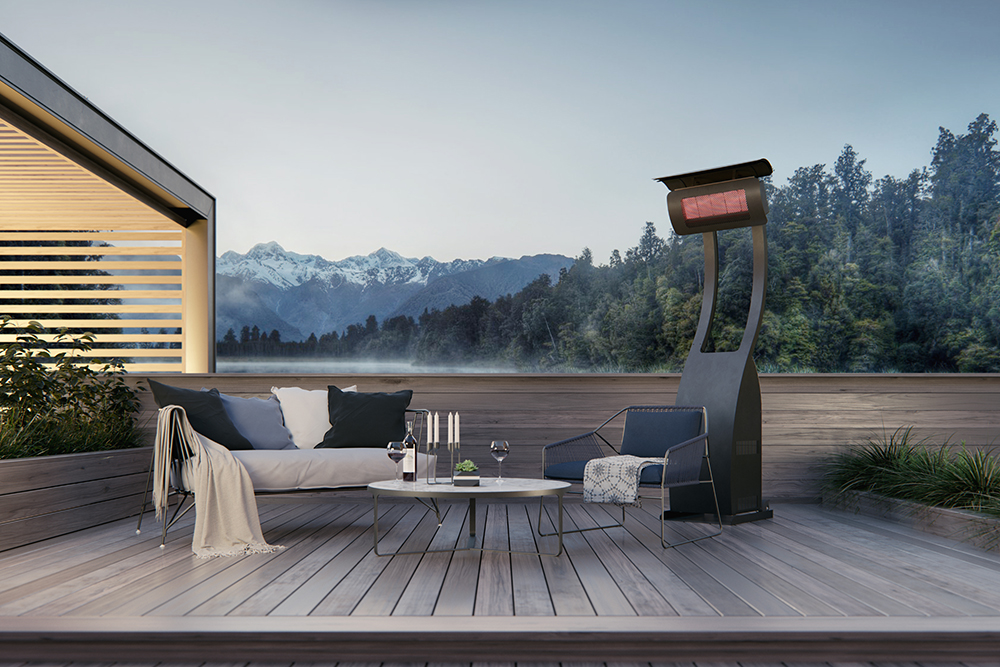 Option 1: Portable Gas Heaters
If space is limited, or you are renting and can't install fixed heaters, then a portable outdoor heater is a good solution. Bromic portable gas heaters emit radiant heat, which feels like the sun. Instead of heating the surrounding air, it warms objects – a much more effective heating option. Portable gas heaters can operate between 10 and 17 hours on a properly filled 20lb or 33lb gas cylinder.
Safety is crucial with gas heaters. You will need some clearance above, so your patio roof will need to be high enough to accommodate this. Bromic portable gas heaters feature a tilt switch that stops the supply of gas if the unit is accidentally knocked over and have a kill switch for high winds, making them safer than traditional heaters.
Option 2: Electric Radiant Heaters
Bromic electric heating products also use radiant heating elements and produce sun-like warmth in areas up to 108 square feet per heater, depending on model and area size. As an energy-efficient option, outdoor electric heaters can also be used in enclosed outdoor spaces, such as a protected patio or gazebo, while providing optimum levels of heating comfort. To allow installation in outdoor spaces of all shapes and sizes, various mounting options are available. These allow the heater to be fixed to the wall or suspended from the ceiling, but also include options that make it possible to recess the heater so it blends in seamlessly into the environment.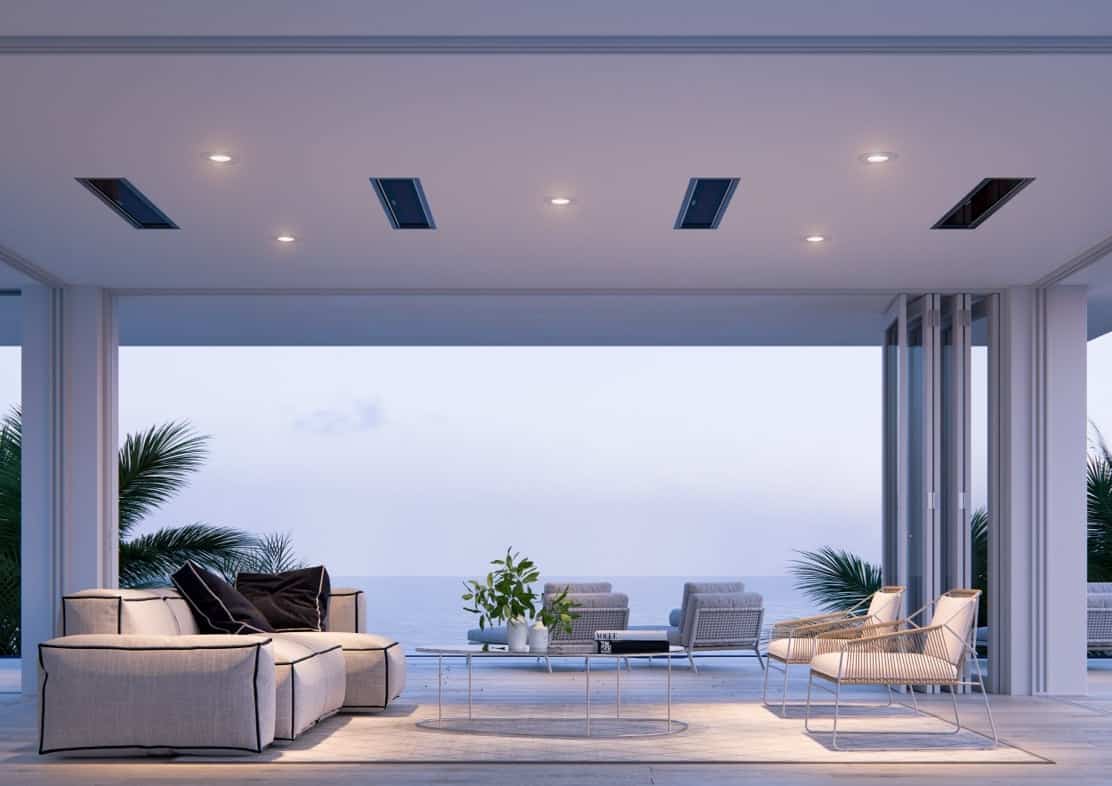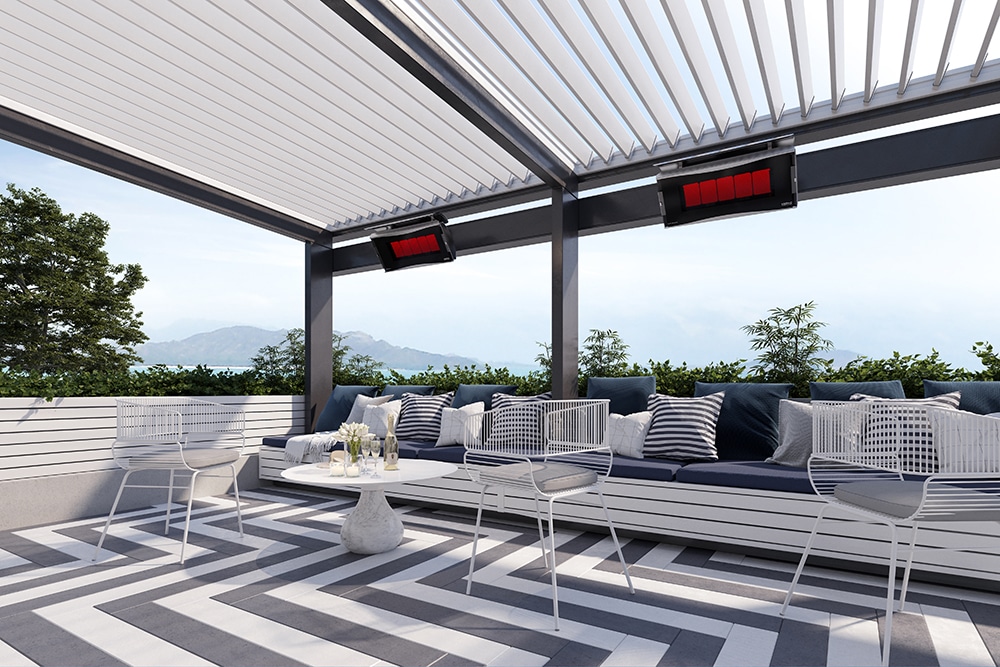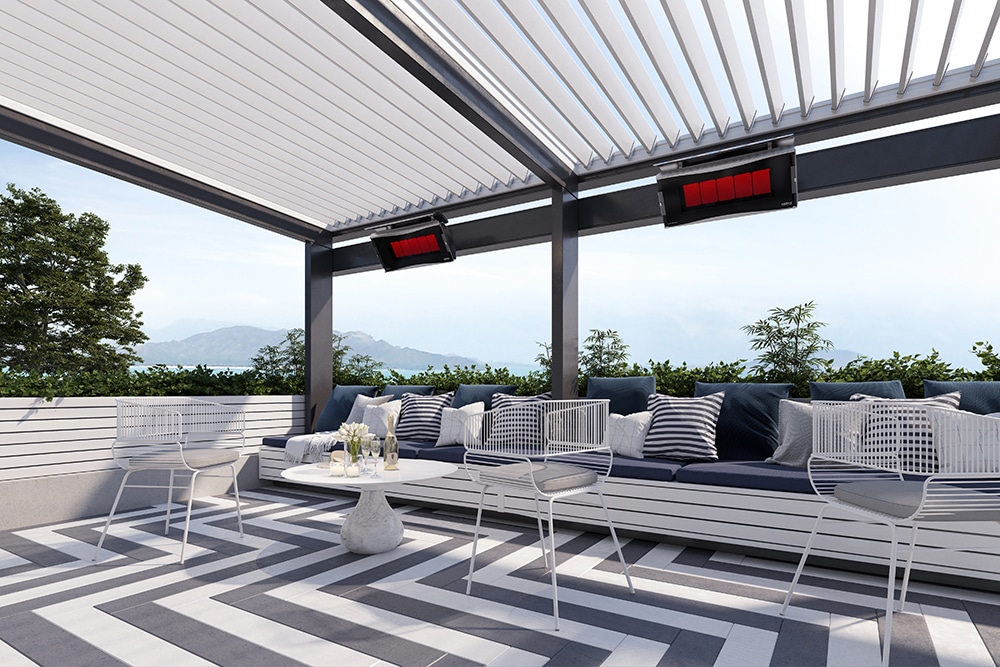 Option 3: Gas Radiant Heaters
With the same radiant heat performance as portable and electric heaters, gas heaters can provide a warm and comfortable area of up to 215 square feet per heater, depending on model and area size. As with the electric heaters we have mounting options that can allow the outdoor heater to be fixed to the wall or the ceiling, with a deflector shield to allow for smaller clearances and to help guide the radiant heat downwards. Unlike Electric heaters though, the gas heaters are fixed at a 45-degree angle for safety, so they are unable to be recessed into the ceiling. There are some great benefits in utilizing gas heating, including a high wind resistance and a larger heating range, which makes it an ideal option for a larger space.
Final Notes
Some heaters have optional extras for comfort and ease of use, like remotes or suspension poles – remember to ask about these when inquiring about your options. It is also important to note that while these heaters have been designed to be simple to install, it is always recommended that you use a professional electrician or gas fitter to install them for you. Contact us today to find out more about our premium range of gas and electric outdoor heaters and see how we can help you achieve optimum levels of comfort in your outdoor space
Categories