Coastal residences are often considered the epitome of tranquility, thanks to their breathtaking ocean views and refreshing sea breezes. Many are tempted to abandon these experiences or head indoors as comfort declines due to harsh weather conditions or a drop in temperature. Fortunately, outdoor heating makes it possible to enjoy these coastal outdoor spaces all year round.
Traditional coastal outdoor heaters are typically constructed of standard stainless steel or other metals, making them susceptible to rust and corrosion. Salt sprays catalyze electrochemical reactions that lead to rusting, and high relative humidity can cause metals to deteriorate. The result? Heaters with shortened lifespans and unappealing aesthetics.
To counteract these hurdles and ensure that you can continue enjoying the comfort of your coastal residence worry-free, Bromic has engineered the Platinum Smart-Heat™ Electric Marine heater series.
What Is Different About the Platinum Marine Heater?
Made of high-quality AISI316 Marine-Grade Stainless Steel, the Platinum Electric Marine Heater series is built to be exceptionally durable and able to withstand the corrosive elements of coastal and marine environments.
Backed by an industry-leading 5-year warranty, the Platinum Electric Marine Heater Series offers peace of mind ensuring that the product is built to last and remains durable over time. This guarantee of longevity makes it an ideal choice for highly used outdoor spaces, allowing you to enjoy your outdoor area without worrying about replacing your heater.
In addition to its durability, Bromic heater series offers versatile mounting options, such as a wall, ceiling or flush mounting. The Low Clearance Recess Kit enhances this flexibility further, allowing it to blend within coastal remodels or new builds. The IPX5 rating ensures that the heaters can be used in outdoor areas exposed to rain, sea spray, or other elements, making them an excellent choice for any outdoor space.
Our heater series is designed for ease of use, providing various convenient control options such as an On/Off Controller, Dimmer Controller, Master Remote, and Smart-Heat Link. Available in white or black finishes, the stylish heater design can complement your outdoor décor while the ceramic surface and fully sealed body make the heaters easy to clean and maintain, allowing for effortless wiping and protection against harsh marine and coastal environments.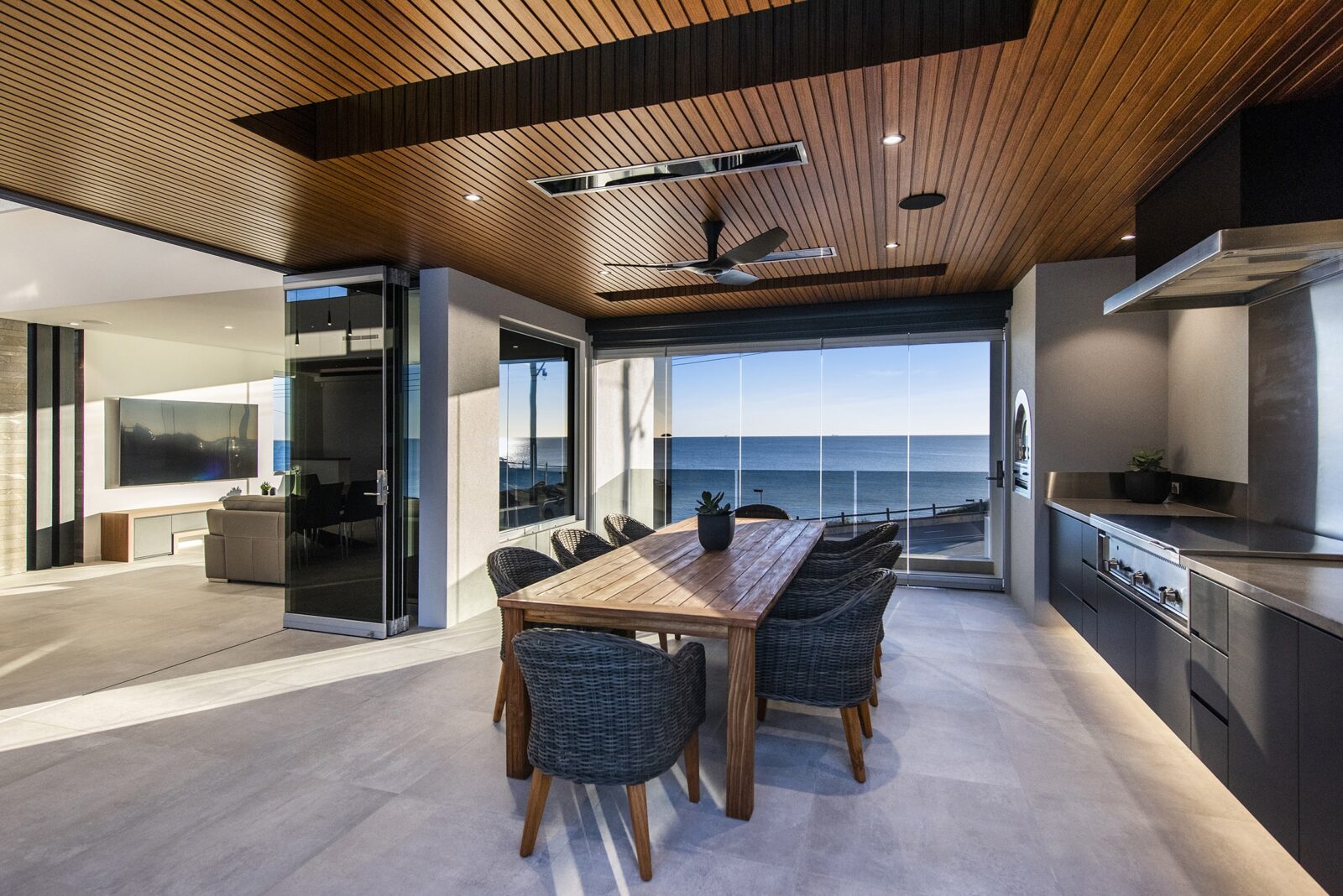 What are the Benefits of the Platinum Marine Heater?
Additional benefits that make the Platinum Electric Marine Heater Series the perfect choice for your coastal outdoor heating needs include:
Available in multiple heat outputs: The series offers 2300W, 3400W, and 4500W heat outputs, providing heat coverage of up to 65 sf, 108sf, and 143sf, respectively. This allows you to choose a suitable heating capacity for your outdoor space.
Available in 208V and 220-240V: The heaters are available in both voltage offerings, making them suitable for installation in residential and commercial settings.
Slim-line design with a ceramic-glass surface: The heaters' sleek design is enhanced by the ceramic-glass surface, which provides even heat distribution and ensures maximum efficiency.
Suitable for marine vessels: The only outdoor heaters on the market fully ENV5-certified by Lloyd's register for installation on marine vessels. This certification guarantees that the heater is safe and reliable for use on your boat or yacht.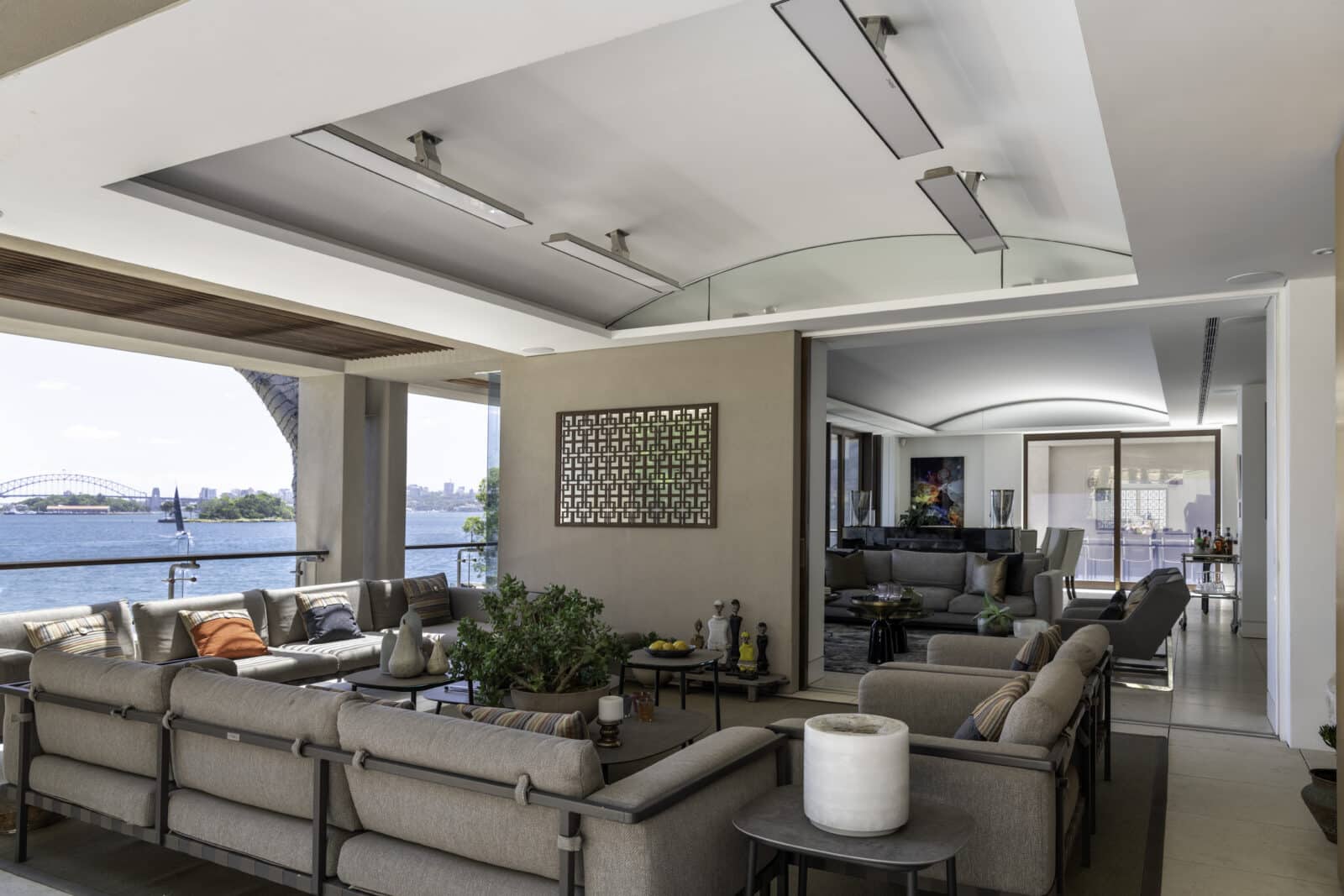 How Do I Maintain My Platinum Electric Marine Heater?
To maintain the Platinum Electric Marine Heater series, regular cleaning and wiping down with a soft, damp cloth is a simple yet effective way to remove any dirt, dust, or debris that may accumulate on the surface of the heater. Avoid using abrasive or corrosive cleaners, as they can cause damage to the high-quality AISI316 Marine-Grade Stainless Steel surface of the heater.
In addition to regular cleaning, mounting the heaters under a cover is critical to protect them from harsh coastal environments. This prevents saltwater and other corrosive elements from accumulating on the surface of the heater.
Ready To Enhance Your Coastal Outdoor Living Experience?
Discover how our premium range of coastal outdoor heaters can help you achieve ultimate comfort and warmth in any coastal environment. Contact our outdoor design team today for a tailored heat layout of your space.